Optical Illusion Dress.
Some might have heard if not maybe seen a type of dress called an illusion dress and that is because they pattern of the dress magical creates a slimmer,curvier,bustier outline to your body. Want to create that curvy body without going on a diet well read on. Its hard to explain but I will try my best, designers cleverly used patterns and shapes to make it look like your slimmer.
Here we have the beautiful Kate Winslet at the 2011 premier of Mildred Pierce in Italy. At first glance Kate looks as if she is size 6/8 but look closer and see that the dress actually black side panels. The black side panels magically blends away into the background so you are only focused on the front white section of the dress making her seem skinnier. Having the dark panels on the dress also gives her an amazing hour glass figure that everyone wants. Ok so it doesn't take pounds of you but it does slim you down a bit and personally I think that's great. Something also about this dress is the clever use of shade added to the bust area of the dress. The shadow under her chest is actually part of the dress design, having that dark shadow enhances the chest area as you can see. So if you're not too big in that area and you want more shape then getting an illusion dress with build in shadow is for you. And on the right we see her strutting those curves in the red dress. It doesn't really matter as long as the you have the black panels on the side of the dress to give you those curves and tiny waist.
Here we have another example of the illusion dress on Louis RedKnapp at the GQ awards. She looks slim and curvy and all because of the dress she's wearing.
However this style of dress doesn't always suit everyone, unfortunately talking Kim Kardashian as an example. Why she thought she needed an illusion dress I dont know seeing as she has a to die for body. The dress Actually made her wider(in an unflattering way) and slightly shorter in my personal opinion. If you already have an hour glass or even pear shape then I would not advise that you buy this dress. Sometimes it depends where the panels are but if you do think about getting one of theses dresses then try them on so you dont ending turning heads for the wrong reasons.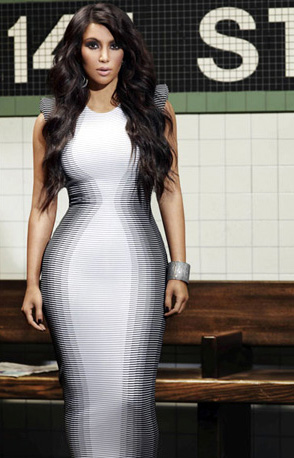 Just to show sometimes it does depend on the style of illusion dress you get, here the illusion is because of the shading at the side rather than just the block panel. This dress does emphasize that great body and make her look taller which is great for small girls.
If you want to look skinnier but cant be bothered with all the diet fuss then these dresses are for you. They come in different colours and some slightly different style. I've seen a couple in shops so now you know what magic they do you can go but them. Below are some links to websites that sell the illusion dresses.
http://www.newlook.com/shop/womens/collections/colour-block-optical-illusion-dress_246394509?productFind=search
http://www.runwayroute.com/product/639/emerald
http://www.topshop.com/webapp/wcs/stores/servlet/ProductDisplay?catalogId=33057&storeId=12556&productId=4953297&langId=-1&cmpId=gbase&viewAllFlag=false&sort_field=Relevance&beginIndex=1&pageSize=20&categoryId=222021&parent_categoryId=459528&refinements=category~%5B222031%7C222021%5D&noOfRefinements=1
http://www.very.co.uk/south-the-illusion-dress/1072563456.prd?cmtag=o&_requestid=145792&prdToken=/p/prod10675706-sku19411436-AI&browseToken=/q/illusion-dress&totalResults=1
http://www.littlewoods.com/south-colourblock-dress/1071162678.prd?browseToken=%2fb%2f1659%2fs%2fbestsellers%2c0%2fr%2f100&trail=1589-1655-1659&awc=3089_1333899022_2104076149a802c075e9d086c52e3ea3&aff=awin&affsrc=79682&cm_mmc=awin-_-79682-_-Editorial+Content-_-0_0
http://www.newlook.com/shop/womens/dresses/chain-print-contrast-bodycon-dress_250540719?tmcampid=75&tmad=c&extcam=BRT_2010_Crt
http://www.newlook.com/shop/womens/dresses/contrast-aztec-print-bodycon-dress_250478409